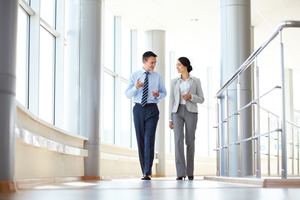 Make an Impact at Your Organization with Communication Training
Whether you are interested in becoming a better listener, a more confident public speaker or a stronger team leader, we have an online learning course for you. Communication is a vital ingredient in the recipe for success, for individuals, departments and entire businesses. Communication can even dramatically increase worker safety, by ensuring everyone is on the same page when it comes to emergency response and crisis management.
Contrary to popular belief, communication is a learned skill, and everyone has room for improvement. When you are listening to someone speak, how can you better maintain your focus? Do you know how to grab a room's attention and keep it? What message do your non-verbal cues send to an audience? How can you develop an engaging presence? Get answers to these questions and many more through these communication training courses.
Course Listing by Topic:
Teamwork: Communication Skills
Single play retail price is listed, contact us for employer pricing.